I love to have homemade gifts, especially ones that I can use. Well, this party was a hit! We had a blast getting together with a bunch of friends to make Soup Mix in a Jar. We made 6 different dry soup recipes then covered the pint size mason jars with a colorful fabric square and tied on a ribbon with instructions to later make the soup. I've enjoying giving some away as gifts and also look forward to having these yummy easy to make soups over the winter. This is a perfect way to use our summer and fall crops that have been dehydrated. Especially, carrots, peas, leeks, onion and herbs. I've included 3 of the soup mixes, so enjoy!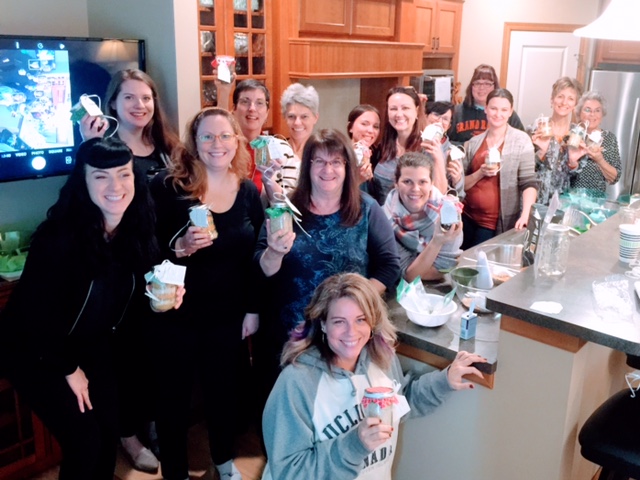 Coconut Curry Soup
For Jar
1 TB curry powder
1 TB dried onion
1 ½ tsp minced garlic
1 TB bouillon
⅔ cup orange lentils
⅔ cup green lentils
Directions
- Add contents of jar to 4 cups water
- Also add 1-14oz can of full fat coconut milk to a sauce pan and bring to a boil
- Reduce to simmer until lentils are tender for about 20 mins
Asian Noodle Soup
For Jar
½ tsp cilantro
¼ tsp minced garlic
1 tsp dried onion
1 tsp chicken bouillon
1 TB dehydrated vegetables
1 cube ramen cake
Directions
- Boil 2 cups of water
- Dump in contents of jar
- Cook on medium heat for 10 mins
4 Bean Soup
For Jar
⅓ cup red kidney beans
⅓ cup great northern beans
⅓ cup of black beans
⅓ cup of pinto beans
Add to Plastic bag:

1 TB oregino
1 tsp season salt
1 TB parsley
1 TB dried onion
½ tsp garlic
1 bay leaf
Directions
- Rinse beans, place in bowl & cover with 1" of water. Let stand overnight
- Next day drain water and rinse well w/water
- In large pot (or slow cooker on low/med) cover beans w/fresh water and cook on low for about two hours or until beans are soft.
- Drain beans and rinse again w/fresh water
- Place beans in large pot and cover with 6 cups water
- add seasoning from the bag
- add 2 cups chopped tomatoes; cover and simmer for 30 mins
- add water or tomato juice to achieve desired consistency
- remove bay leaf before serving and season to taste.